Tampa Interbay Rotary Presents $25,000 to CARD-USF and the Applied Behavior Analysis Program at USF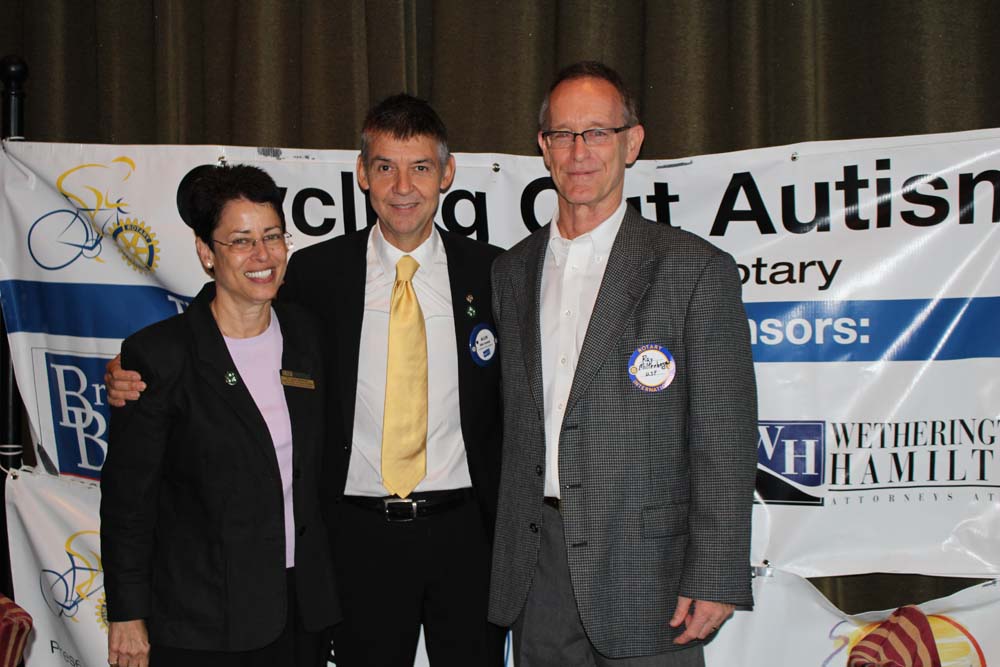 On June 18, 2015, Tampa Interbay Rotary President Allen Keetch presented checks totaling $25,000 to the Center for Autism & Related Disabilities (CARD-USF) and the Applied Behavior Analysis Program (ABA), both programs in CFS and recipients of the 6th Annual Cycling Out Autism fundraising event held March 28, 2015.
Since 2010, the Tampa Interbay Rotary Club cycling event has raised over $150,000 to support programs in the Tampa Bay community focused on helping individuals with autism and their families. During the awards ceremony, Dr. Karen Berkman, Assistant Professor & Executive Director of CARD-USF, and Dr. Ray Miltenberger, Professor and Director of the ABA Master's Program, provided brief overviews of how the funds will support their program's efforts this year.
Dr. Berkman explained that funds will help CARD-USF expand outreach through their branch office that is serving Highlands, Desoto and Hardee counties to provide agencies, service providers and families with the knowledge and skills to support children and adults with autism and related disabilities. CARD-USF plans to achieve this by replicating their autism friendly business initiative in that region.
"We appreciate the many efforts of the Tampa Interbay Rotary Club, and the excellent support we gained from members, sponsors and cyclists in the community," said Dr. Berkman. "They have been a great partner in our mission to support families and professionals to become educated, networked and coordinated to create a welcoming community for all people."
The ABA program has awarded their funds to doctoral student Anna Garcia. As the 2015 Tampa Interbay Rotary Scholar recipient, Anna will be able to use the funds to complete her research, which is focused on enhancing parent participation, improving behavioral services and access to services for Hispanic children with autism, and helping kid with autism cope with teaching demands.
"We are proud to be able to offer this scholarship to a well-deserving student," said Dr. Miltenberger. "As we continue to build tomorrow's workforce through combined coursework, practicum experiences, and research we appreciate the fundraising efforts of the Tampa Interbay Rotary. Their support is helping us ensure that evidence-based practices and sustainable services will be available to meet growing needs in Florida and nationally for practitioners who can work effectively in the field of autism."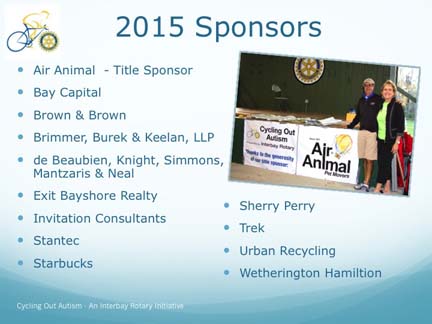 The success of this year's event would not have been possible without the contributions of many sponsors, including the Title Sponsor, Air Animal Pet Movers.
March 19, 2016: Mark Your Calendars!
The Interbay Rotary Club is hosting Cycling Out Autism on Saturday March 19, 2016 at the Pasco Rotary Pavillon at Concourse Nature Park in Spring Hill.
Tampa Interbay Rotarian Ken Hopkins said he hopes to raise more than $40,000 in 2016. His plans to do so include increasing the number and type of corporate sponsorship, providing additional advertising opportunities, and increasing the outreach for cycling teams and riders. More details will be made available soon. To inquire about sponsorship and advertising, contact the Tampa Interbay Rotary.