Rehabilitation & Mental Health Counseling (RMHC) Program Gains New Director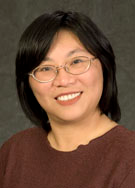 Chih-Chin Chou, PhD has accepted the position of Program Director for the Rehabilitation & Mental Health Counseling (RMHC) Program, effective August 7, 2015. Now within the Department of Child & Family Studies, the RMHC program trains counselors to work with persons with disabilities, including those of a physical, mental, emotional or chemical nature. The program currently offers a Master's degree, speciality concentrations and graduate certificates.

Dr. Chou will come from the University of Arizona where she has been a tenured Associate Professor and Rehabilitation Counseling Program Coordinator in the Department of Disability and Psycho-educational Studies. Prior to that appointment, she was an Assistant Professor and Undergraduate Rehabilitation Program Coordinator in the same department at the University of Arizona for six years. From 2005 - 2007, she was an Assistant Professor in the Department of Psychological Studies, Co-Director of the University Counseling Center, and Program Director for the Master in Applied Psychology Program at the National Institute of Education in Singapore. She also held an academic appointment for a year at the City University of New York- Hunter College. She received her PhD in rehabilitation psychology with a minor in educational psychology from the University of Wisconsin-Madison in 2004.

Dr. Chou's research interests include psychiatric rehabilitation, research methodology, social support, vocational outcomes for people with disabilities, rehabilitation education, international rehabilitation, and positive psychology. She has published over 25 articles in peer-reviewed journals and eight book chapters. Dr. Chou has received numerous grants including three current training grants totaling almost $2.5 million.