USF Student Body President Jean Cocco Introduces Patrick Kennedy at 2015 Conference in Tampa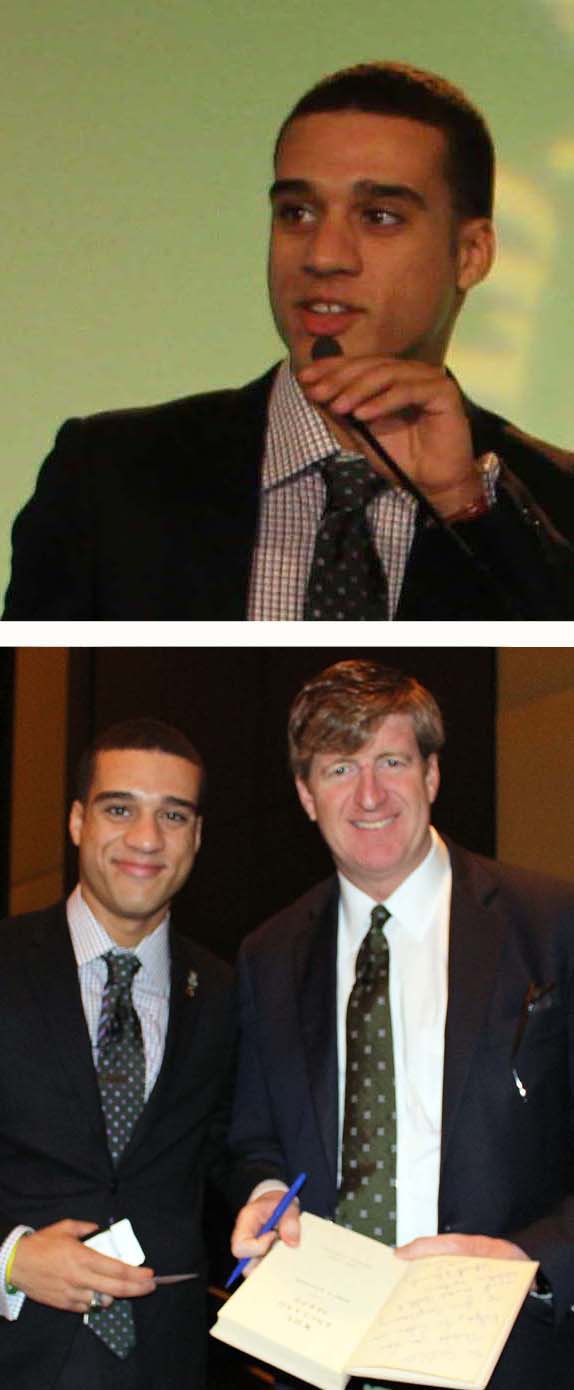 Just walk into his office at the USF Marshall Center, and you will know immediately that USF Student Body President Jean Cocco is an absolute Kennedy admirer. Posters, quotations, books and numerous pieces of Kennedy memorabiliia are displayed throughout his office space. He is especially proud of the hardbound book given to him by a friend, Why England Slept, written by John F. Kennedy as his senior thesis.

Dr. Catherine Batsche, Associate Dean for Academic Affairs at the USF College of Behavioral & Community Sciences knew this about Jean, as they co-chair the USF Ethics and Integrity Council. Cocco shared with her that he would even spend his lunch time in high school talking to teachers about what it was like to grow up in the sixties, so when Dr. Batsche heard that Former U.S. Representative Patrick J. Kennedy was going to the speak at the 28th Annual Research & Policy Conference on Child, Adolescent and Young Adult Behavioral Health hosted by the College's Department of Child & Family Studies, she told Department Chair Dr. Mario Hernandez she knew a student who would love to meet him. This resulted in Jean Cocco not only meeting Patrick Kennedy, but also getting his book signed and providing the opening introduction of Kennedy at the conference.

During Kennedy's introduction, Jean Cocco shared a few personal moments from his life.

"I want to share what a tremendous honor this is for me. Since I was a boy, President John F. Kennedy has inspired me to ask what I can do in service to my community and country. My father was not present in my childhood, and I struggled to find a role model. President Kennedy filled that void, and I could not help but be a bit jealous of his children, as I wanted to be one of them. I stand before you impacted by President Kennedy's legacy, and the others in his family. One of the quotes he loved so much, I often try to convey to my peers - "We have the capacity to make this the best generation in the history of mankind, or make it the last."

Patrick Kennedy provided a moving response to Jean's remarks.
"In a very real sense Jean, you are part of the Kennedy legacy because you are carrying on what John F. Kennedy really wanted from people, and that's for them to give this country their best and try to make life better for others. Your leadership here at USF and your passion to help your fellow is really inspiring, and I want to say that you exhibit all the inspirational qualities that he believed in. So in a sense you are family, okay, and I just wish you the best in your life."

Jean Cocco graduates this May with a degree in Political Science and International Studies. As he will soon pack up his campus office, he will pack one of his most prized possesions, a copy of "Why England Slept," now complete with an autographed page from President Kennedy's nephew Patrick.
Photos: USF Student Body President Jean Cocco on stage as he provides introduction of Patrick J. Kennedy. Jean gets a favorite book signed by Kennedy.