Positive Behavior Support Efforts Make for Busy Days for Dr. Heather George
There's a saying, "if you want something done, give it to a busy person."
That is certainly the case with Dr. Heather George, CFS Associate Professor and Co-Director of Florida's Positive Behavior Support (PBS) Project. In the past few months, Dr. George's busy days have included some impressive activities aimed at increasing the capacity of school districts to address students with problem behaviors. Not only has Dr. George put mileage around the state of Florida, she has travelled outside the state – as well as the country – to share and collaborate on PBS intervention programs.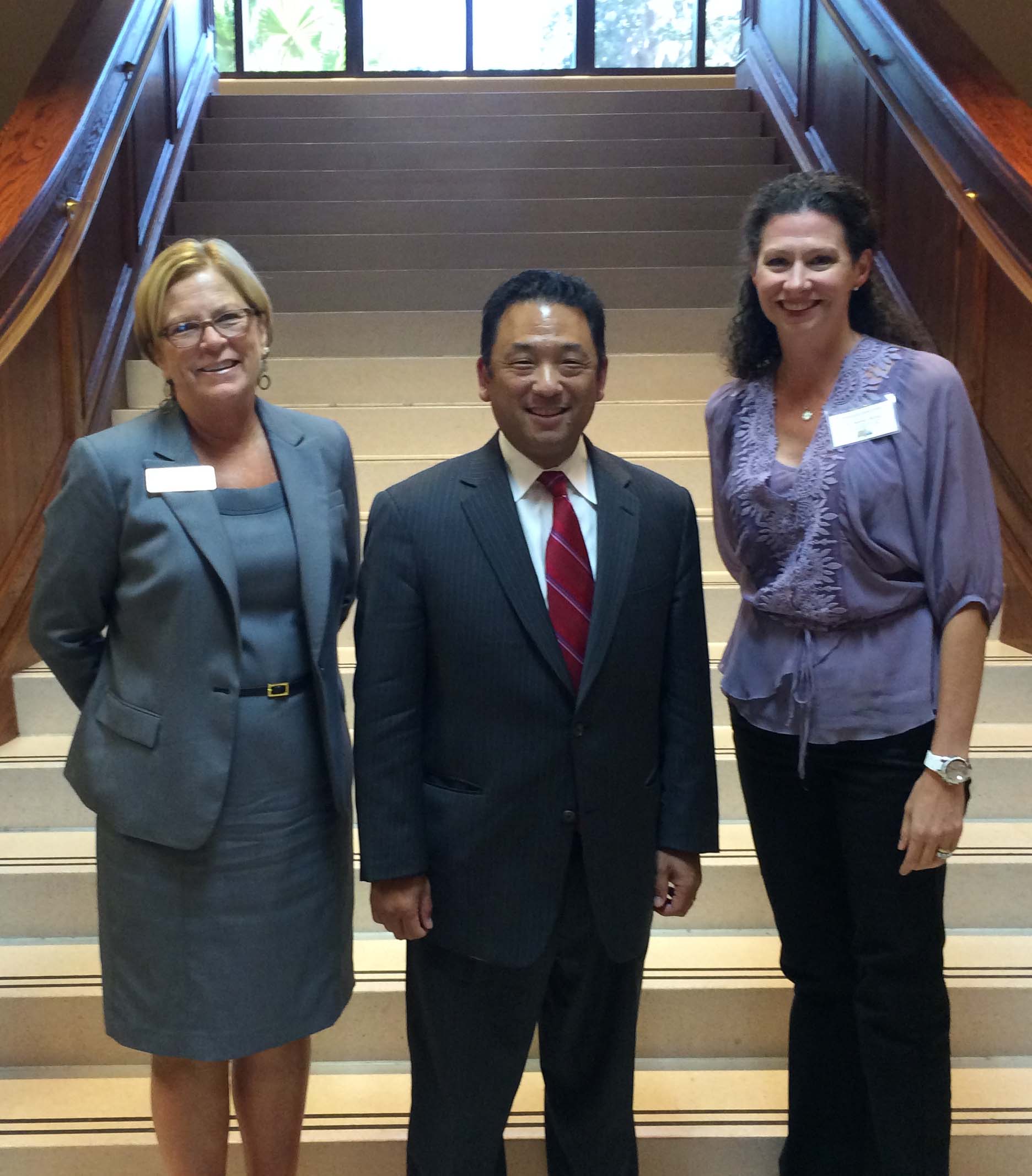 During August 2014, Dr. George had the opportunity to meet with David Mineta, Deputy Director of Demand Reduction for the Office of National Drug Control Policy, when she was invited to participate in a visit to schools in the Liberty County School System in Hinesville, Ga – an area that Dr. George provides training in her role as a PBIS national partner. Mr. Mineta was interested in touring a school and meeting with district leaders to learn more about the implementation of the Positive Behavioral Interventions and Supports (PBIS) framework. The Georgia Department of Education and the Executive Office of the President of the United States chose Liberty County schools.
"It was a great opportunity to bring behavior prevention into the same conversation with drug prevention," said Dr. George. "These issues often overlap and Mr. Mineta was able to take what he learned from PBIS principles to the White House where he shared with committees and organizations and encouraged them to develop programs with integrated coordinated access to address both issues in schools."
From that meeting, Dr. Mineta was invited to continue the conversation by providing the keynote address at the 2014 National PBIS Leadership Forum. He discussed the association between substance use, mental health and student outcomes.
Dr. George went international when she was invited to present the keynote address at the Netherlands PBIS Conference in November 2014. She was also asked to come in advance so that she could provide lectures in schools and districts across their country. The visit was sponsored by Fontys and Windesheim Universities. (Dr. George is currently developing a formal international partnership with the Netherland universities and USF with the assistance of the USF World.)
In addition to her travels, Dr. George has recently begun her third three-year term as President of the Association for Positive Behavior Support. She has also been elected department representative – and Chair- of the CBCS College Research Council. She also continues to secure new and continued funding. Her most recent efforts include:
New five-year funding for the Florida School Climate Transformation grant $640,000 for 2015.
Refunding of the Florida's PBS:MTSS Project Florida Positive Behavior Support Project/$1.735 for the 2014-2015 year. Over 1600 schools across 80% of Florida's school districts have been trained and are actively implementing PBIS. Of those schools trained, over 72% are implementing PBIS with high fidelity.
Additional funding from the Office of Safe and Healthy Students for the Office of Special Education Programs (OSEP) Technical Assistance Center on PBIS to provide technical assistance and dissemination to School Climate Transformation grant awardees. An additional $500,000 annually was given to support this expansion in addition to the $90,000 allocated annually to support evaluation, model demonstration and technical assistance efforts nationally.
"Over 1600 schools across 80% of Florida's school districts have been trained and are actively implementing PBIS," said Dr. George. "Of those schools trained, over 72% are implementing PBIS with high fidelity."
There are three general reasons why educators use positive reinforcement to support students; (a) To create positive relationships with students and their families, (b) To establish an inviting and positive learning environment where students and staff enjoy doing their respective jobs, and (c) to provide students with the accurate behavioral feedback they need to become more successful in school and better prepared for life.
For additional information, visit http://flpbs.fmhi.usf.edu/. The website offers a variety of resources and information.
(Photo above from left to right: Ginny O'Connell, Georgia State PBIS Coordinator, David Mineta and Dr. Heather George.)