Learning Academy Services at USF Selected to Showcase Work for Rehabilitation Services Administration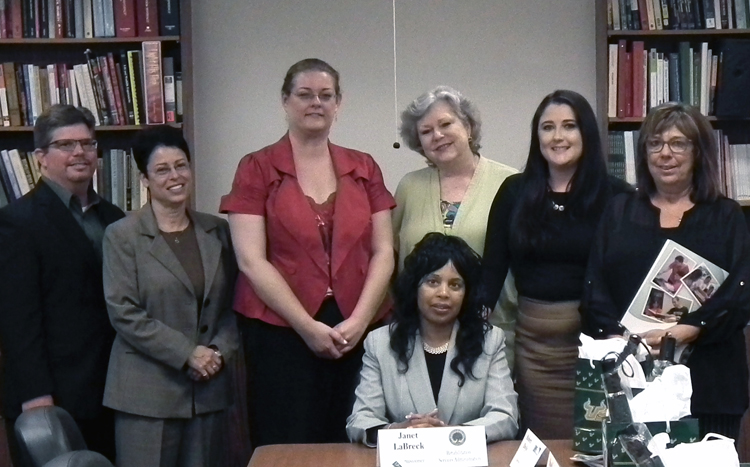 The Learning Academy and Employment Services was among only three programs at USF selected by the Division of Vocational Rehabilitation to showcase their work during a visit with Janet LaBreck, Commissioner of the Rehabilitation Services Administration (RSA) on July 9. Located within the U.S. Department of Education, the RSA provides leadership and fiscal resources to assist state and other agencies to provide vocational rehabilitation, independent living and other services to individuals with disabilities.
The Learning Academy and Employment Services is a customized transition program that assists in preparing young adults diagnosed with Autism Spectrum Disorder for employment. The Learning Academy provides services, supports and experiential opportunities that develop and enhance each student's independence in meeting personal career goals. View student success stories.
"Our students engage in self-discovery and career exploration through classroom activities and real-life experiences such as internships and peer mentoring," said Dr. Karen Berkman, Director of Learning Academy Services at USF. "We were proud to share that we have over a 60% success rate helping individuals meet their benchmarks for placement in their career choice, well above the Florida average of 28%."
In addition to sharing successes on the USF campus, a significant success for vocational rehabilitation and employment was being celebrated in Washington D.C. The Workforce Innovation and Opportunity Act (WIOA) was passed with overwhelming bipartisan support. The Act modernizes and improves existing federal workforce development programs, helps workers attain skills for 21st century jobs, provides supports to people with disabilities to enter and remain in competitive, integrated job settings, and fosters the modern workforce that evolving American businesses rely on to compete.
"We look forward to this updated bill providing better access to education, training, and employment services," said Dr. Berkman.
Those attending the meeting included:
RSA Commissioner Janet LaBreck
Commissioner Janet LaBreck's husband, Russell
Commissioner's service animal
Christyne Cavataio, RSA VR Program Specialist
Cathy Hebda, DOE Chief of Staff
Aleisa McKinlay, Division of Vocational Rehabilitation Director
Linda Parnell, Division of Vocational Rehabilitation, Bureau Chief of Field Services
Robert Doyle, Division of Blind Services Director
John Howell, Division of Vocational Rehabilitation, Area Director
Photo Above (left to right)
Front: RSA Commissioner Janet LaBreck
Back:
John Howell
Karen Berkman, PhD
Megan Fitzpatrick
Aleisa McKinlay
Amy Woodard
Susan Richmond, MS