$100 Donation Dream for CARD-USF Quickly Turns to $4,000 Reality!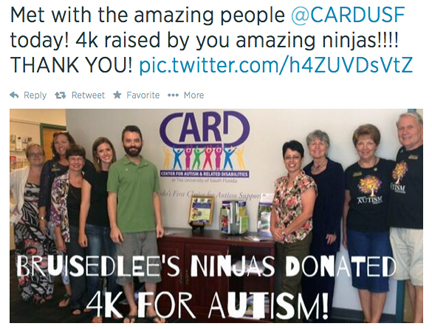 Who knew gaming could turn into charity streaming and fundraising? Jared and Kelli did! Parents of an adorable son with autism and CARD constituents, Jared and Kelli set up an 8-hour charity stream for autism awareness through their Twitch online community. Twitch is the world's leading video platform and community for gamers with more than 45 million visitors per month.

"Our goal was $100 and we were going to match anything up to $100," said Kelli. "We were blown away at how many people donated!"

On June 12, Jared and Kelli visited the CARD-USF offices and discussed how the $4,000 raised will be used to support autism in the CARD-USF catchment area.

"We are so appreciative of their donation," said Christine Rover, CARD-USF program planner. "Jared and Kelli are true CARD champions and autism advocates. We look forward to using their donation to serve individuals affected by autism and related disabilities and helping them to maximize their potential for success at home, in school, and all around the community."
Photo Above (l to r):
Adrian Brooks, CARD-USF Program Assistant
Christine Rover, CARD-USF Program Planner
Patricia Toth, CARD Advisory Committee
Kelli
Jared
Karen Berkman, PhD: CARD-USF Executive Director
Catherine Batsche, PhD: College of Behavioral & Community Sciences Associate Dean
Barbara and Bob Verriest:CARD-USF Board Members