CFS Faculty Heather Peshak George serves as Contributing Editor of Encyclopedia of Special Education
New to the latest edition (January 2014) of the Encyclopedia of Special Education, A Reference for the Education of Children, Adolescents, and Adults Disabilities and Other Exceptional Individuals are entries on topics that have grown in importance since the publication of the third edition, including Response to Intervention, Positive Behavioral Interventions and Supports (PBIS), Autism and Applied Behavior Analysis.
CFS faculty Heather Peshak George served as Contributing Editor on PBIS.

"We would like to give many thanks to Heather Peshak George, USF, as a Contributing Editor and her amazing contribution and coverage of this topic," wrote the editors.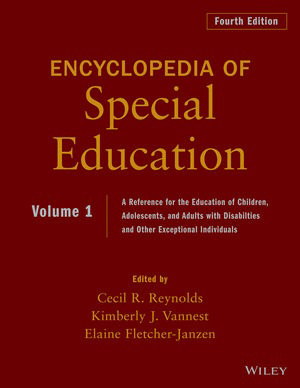 This Encyclopedia is the only reference devoted to special education. Edited and written by leading researchers and scholars in the field, it addresses issues of importance ranging from theory to practice and is a critical reference for researchers as well as those working in the special education field.

Dr. George served as consulting editor on all entries related to the topic of Positive Behavior Support. She serves as author or co-author on the PBS Overview, as well as areas related to the Primary Tier, Coaching/Facilitating, and Expectations.
Additional CFS faculty who contributed their expertise and knowledge are:
Anna Winneker Robic and Stephanie Martinez: PBS and The Law
Brian Gaunt, Amanda March and Devon Minch: PBS and Response to Intervention
Lise Fox and Glen Dunlap: PBS and Early Childhood Intervention
Therese Sandomierski and Michelle White: PBS and Teaming
Rose Iovannone: PBS and Proactive/Preventative Strategies
Karen Childs: PBS and Families
Donald K. Kincaid : PBS and Systems-Level Change
Glen Dunlap: Biography: Ted Carr
Meme Hieneman: Biography: Glen Dunlap