CARD's "Not-too-Haunted Hallways" Proved Great Success for Trick-or-Treaters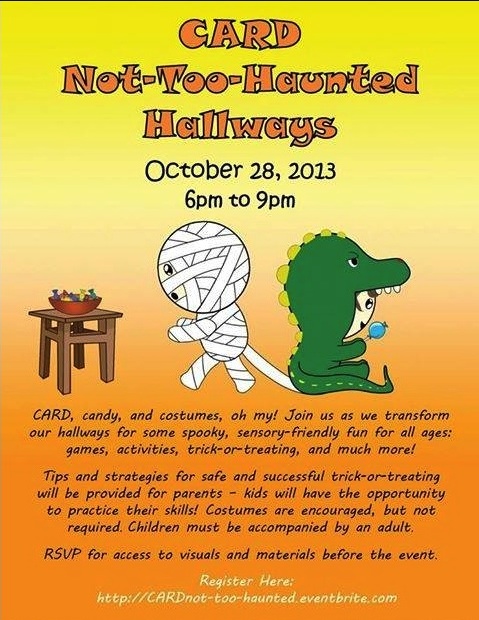 A few days before Halloween, CARD-USF transformed their hallways for some not-too-haunted fun. Thanks to two CARD staff and USF students Olivia MacDonald and Megan White, and lots of help from the USF CARD Autism Champions Student Organization, CARD families, Board Members, friends, staff and volunteers enjoyed spooky, sensory-friendly fun that included games, activities, and trick-or-treating. In addition, tips and strategies for safe and successful trick-or-treating were provided for parents. Trick-or-Treaters also had on-the-spot opportunities to practice their skills.
"Many families with a child with autism have never had the opportunity to enjoy Halloween in a safe and stress free environment. The hustle and bustle of going up to every neighbor's door may be overwhelming to a child who does not speak or look someone in the eye," said Christine Rover, a program planner with CARD-USF.
Guests first arrived to the Fortune Teller's Tent to register, get a goody bag, and autism friendly materials to make the evening more enjoyable. Kids then decorated canvas treat bags, got their faces painted and played a few outdoor games.
Each group of trick-or-treaters was escorted through themed hallways with a guide who helped them see all of the features, decorations and activities. A designated trick or treat door in each hallway provided the opportunity to practice their trick-or-treating skills.
"Thanks for the wonderful event," shared a parent. "Everyone was so helpful, understanding the needs our kids may have and yet, letting them be. Fantastic! Congrats!"
Additional comments shared were:
"Thank you CARD. It was so well organized. You really took the time to prepare for the kids' enjoyment. Mad science show was very original and hallways decorations were very nice. It was perfect!"
"Thank you for your hard work and continued support!We loved it!!! More more more please!!"