International Scholars Partner with CFS on Positive Behavior Support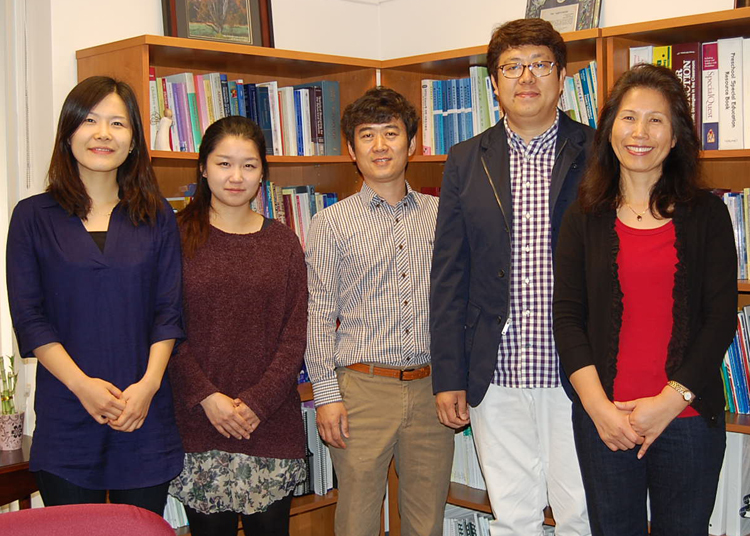 Three international scholars from South Korea are visiting CFS through the USF Exchange Visitor Program. This program brings qualified international faculty, professors, research scholars, specialists,
and other professionals to the United States to participate in educational and cultural programs.
The scholars, from Kongju National University (KNU) Department of Special Education, are working with Associate Professor Kwang-Sun Cho Blair, PhD from the Florida Center for Inclusive Communities to develop team training and graduate curriculum materials related to school-wide positive behavior support.
Scholars include Teaching Assistant Na-Ye Kim, Adjunct Professor Jongnam Baek, and Assistant Professor and Chair Kyoung-won Lim. They will remain until the end of February.
CFS and the KNU Department of Special Education have pursued opportunities to collaborate since 2006 when USF and KNU established a collaborative relationship. The KNU Department of Special Education is committed to preparing high quality special education teachers and building positive behavior support systems in K-12 schools.
Dr. Blair welcomes the opportunity to collaborate. "We have a strong working relationship with KNU's special education faculty and I look forward to developing joint research or training projects that will provide value to our department, college, and university as a whole."
(Photo above, left to right: Hyojeong Seo [Ph.D. candidate, Department of Special Education, University of Kansas; a graduate from Kongju National University]; Na-Ye Kim; Dr. Jongnam Baek; Dr. Kyoung-won Lim; and Dr. Kwang-Sun Cho Blair.)