CFS Honors Community Partners at Fall Luncheon
The 2012 Fall Luncheon and Awards Ceremony for the Department of Child & Family Studies (CFS) was held November 14 at the USF Gibbons Alumni Center and honored three outstanding community partners who play key roles in the success of CFS work.
"Community partners are organizations and individuals who have our shared mission of strengthening and sustaining healthy communities through efforts in academics, research, and training," said Dr. Mario Hernandez, Chair of the CFS Department. "We are so appreciative of their willingness to work with us to improve the lives of children and families throughout our state and nationally."
The 2012 Outstanding Community Partners: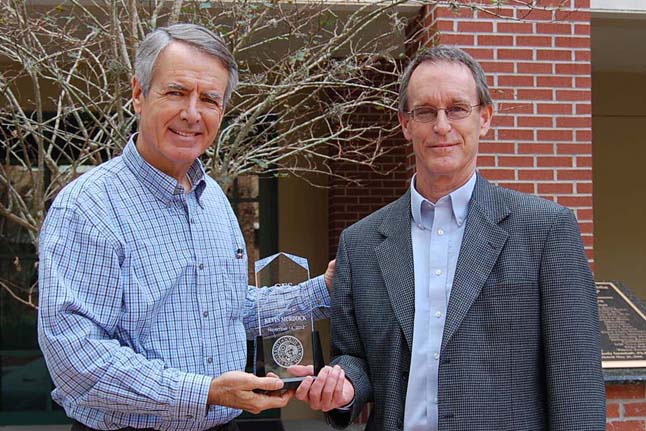 Kevin Murdock:
Hillsborough County Public Schools
Presented by the Applied Behavior Analysis Program (ABA)
Dr. Kevin Murdock provides consultation and professional development activities in Hillsborough County Public Schools, the eighth largest U.S. school district. He's a BCBA and certified School Psychologist, and is a champion of the ABA program in schools and in the state of Florida. He is the Practicum Supervisor for the ABA program, has served as a faculty search committee member for a number of faculty in the program, and serves on students' master's thesis committees. (Photo: Dr. Kevin Murdock, left, with Dr. Ray Miltenberger, ABA Program Director.)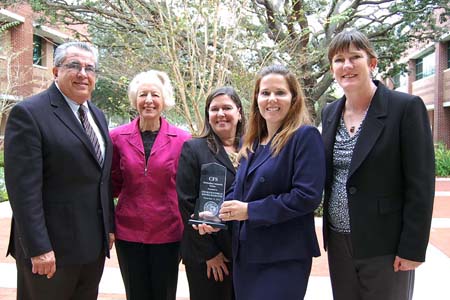 Citrus Health Network , Inc., Hialeah, FL
Presented by the Division of State & Local
Citrus Health Network is one of only six Federally Qualified Health Centers in Miami-Dade County designed to serve the medically underserved and un-insured residents of West Miami-Dade County and the City of Hialeah. Citrus Health has a passion for working with children and families. They are a learning organization and are committed to quality of services and excellence in general. CFS works with Citrus Health on a study of youth with emotional and behavioral disorders who are eligible for juvenile justice moderate-risk commitment programs. (Photo l to r: Mario Jardon from CHN, Mary Armstrong, CFS Associate Professor and Division Director, Maria Alonso from CHN, Kimberly McGrath from CHN, and Norin Dollard, CFS Research Assistant Professor.)
Citrus Health Leadership Team: Mario Jardon, LCSW, CEO; Maria Alonso, MBA,Chief Operating Officer; Kimberly McGrath, Psy.D.,Clinical Coordinator of Foster Care Plus.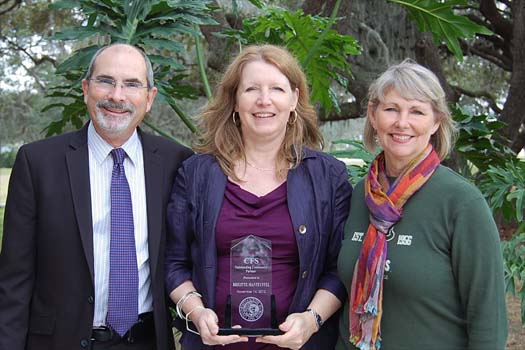 Brigette Manteuffel:
ICF International
Presented by the Division of Training, Research, Education, and Demonstrations (TREaD)
Dr. Manteuffel is Vice President of the Public Health Division of ICF International and responsible for their efforts in children's mental health, trauma, and suicide. Her work with SAMHSA, the CDC, and the World Bank ranges from women's health and HIV prevention to teen health services, children's mental health systems, and community based organizations in Africa. CFS has worked with Dr. Manteuffel since 1999 when she joined Macro International and became part of the National Evaluation for SAMHSA's Children's Mental Health Initiative (CMHI). Over the years, she has worked with many of the CFS Faculty and staff on the national CMHI evaluation, multiple System Of Care projects, implementation of System of Care Practice Review, conflict resolution, and the national evaluation of the Healthy Transitions Initiative. (Photo l to r: CFS Chair Mario Hernandez, Brigette Manteuffel and Sharon Hodges, CFS Research Associate Professor and Division Director.)