ABA Reception Celebrates Alumni and New Doctoral Program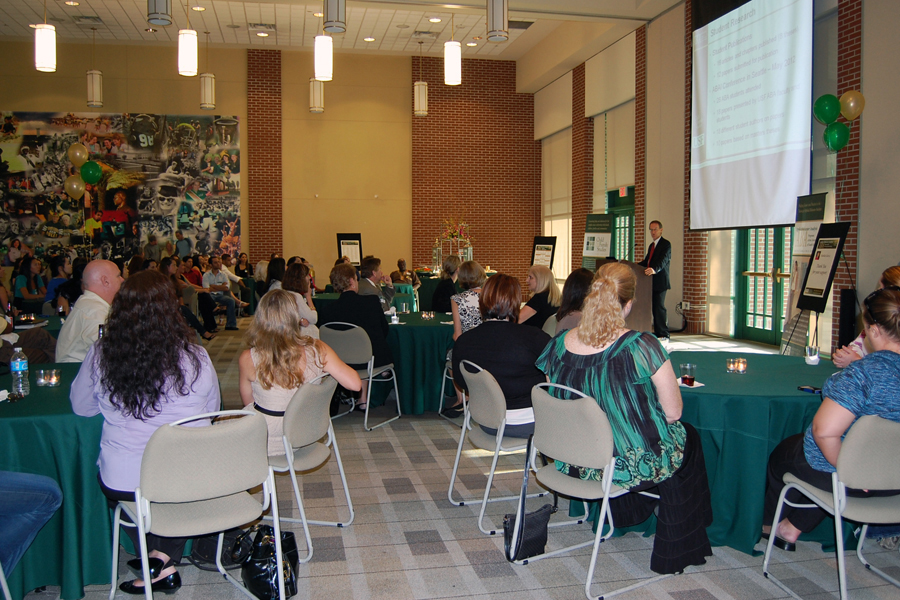 On the heels of a start to a new fall semester, the Applied Behavior Analysis Program (ABA) at the University of South Florida held a special reception Monday, September 10 to bring together program alumni, community partners and special guests to celebrate alumni and program accomplishments and the development of the new ABA doctoral program.
ABA Director Dr. Ray Miltenberger shared highlights of the program, which first began offering a master's degree, and has now grown to include an undergraduate minor, online learning modules offering BACB Type-2 CEUs, as well as the new ABA doctoral program that will begin Fall 2013 for students with ABA master's degrees.
The Fall 2012 incoming graduate class has an impressive profile. Of the 90 students who applied to the program, 22 were admitted. They represent 9 different states, already have much ABA experience, and their mean GPA is 3.61. Since the program was reinstated in 2006, two-thirds of the students have graduated in less than two years, and all have found employment.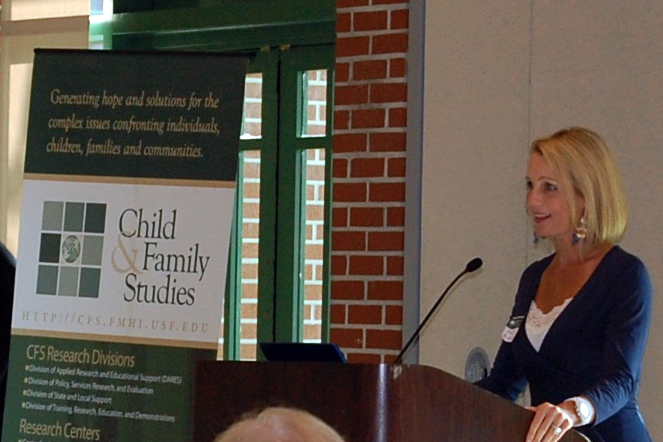 Alumnus Kelley Prince, M.A.,BCBA, President of Behavioral Consulting of Tampa Bay, Inc helped introduce a new student funding initiative to support ABA master's students as they complete and disseminate their applied research. She shared her memories of being a struggling student trying to find funds to complete her thesis research, and presented a donation on behalf of her organization, which has also played a vital role as a location for ABA students to complete their practicum work.
"Kelley is a phenomenal person," said Dr. Mario Hernandez, Chair of the Department of Child & Family Studies at the USF College of Behavioral & Community Sciences. "She is a very successful entrepreneur who has created a business focused on helping others."
Behavioral Consulting of Tampa Bay works with children diagnosed with autism and related disorders as well as with children engaging in a variety of typical problem behaviors. Specializing in the development, implementation and supervision of verbal behavior programs for children, Kelley and her organization focus on teaching language/functional communication skills, academic skills, social skills, self-help skills and cooperative behavior.
Tricia Jeffries, a 2nd year graduate student spoke on behalf of the students and expressed the difficulties of finding available funding for achieving their educational goals. The ABA Student Assistance Fund was initiated to help alleviate some of those concerns by providing support for expenses such as equipment for student projects/research, travel expenses for students to conferences, and assistance with the costs of data collection/analysis. In May 2012, 26 ABA students used their own money to attend (all the way from Florida!) the ABAI Conference in Seattle, Washington.
"We understand the importance of this fund, as our own Department Chair, Mario Hernandez, initiated its establishment, and all ABA faculty are contributing," said Dr. Miltenberger. "I urge anyone in the position to do so, to help with this important cause."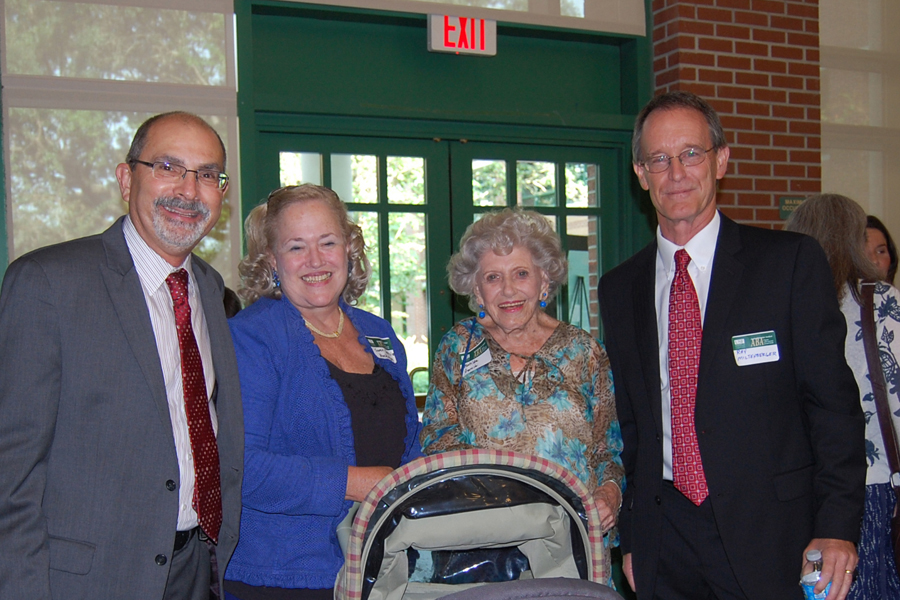 The reception was supported by a contribution from Matilda Garcia. Mrs. Garcia has been recognized in Tampa and throughout the state of Florida for her efforts involving human rights, housing, schools, civic groups, government, and the elderly. She has been a special advocate for the Department of Child & Family Studies and has supported numerous causes throughout the years for the University of South Florida.
Photos:
Top: Dr. Ray Miltenberger shares ABA Program highlights;
Middle: Alumnus Kelley Prince speaks before presenting donation to ABA Student Assistance Fund
Bottom: Dr. Mario Hernandez, Gwen Garcia MacKinnon, Matilda Garcia and Dr. Ray Miltenberger
Click here to donate to the ABA Student Assistance Fund.