Living With Systemic Juvenile Arthritis: Mom And Son Share Personal Journey Through Video And Blogging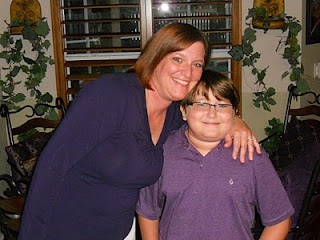 Rochelle Lentini, M Ed, Director of the Program-Wide Positive Behavior Support Project within the Florida Center for Inclusive Communities is very proud of her son Parker, who recently posted a video to YouTube so others can gain a better understanding of what he and over 300,000 children in the U.S. must face each day as they battle juvenile rheumatoid arthritis (also known as juvenile idiopathic arthritis). There are multiple forms of juvenile arthritis (JA) and they are very different than the arthritis that is familiar to many "grandparents". Parker has a form that affects about 10% of children with JA.
Parker has systemic on-set juvenile arthritis (formally known at Still's Disease). This painful autoimmune illness affects joints and internal organs. In addition to affecting all of Parker's joints, this disease has attacked his heart, lungs, lymph nodes, muscles, and stomach. All organs are at risk, including the eyes. Some children with systemic JA also have other autoimmune complications. Parker also has overlap syndrome consisting of myositis, raynauds, vasculitis, and psoriatic features. He also has severe allergies and asthma.
"Recently, Parker decided that there needs to be a "national campaign" about autoimmune arthritis because so few understand it, and he made a video all on his own," said his mom Rochelle. "He very much wants it to go viral, and I decided I should share this with my colleagues because I didn't know about this either until Parker was diagnosed."
The family also maintains a blog with reflections on activities and links to useful resources.
Please click on the YouTube link to hear Parker talk about what this disease is like and please share with others!
Great job Parker!