DrPH Student Nichole Murray Selected for USF Graduate School Doctoral Student Leadership Institute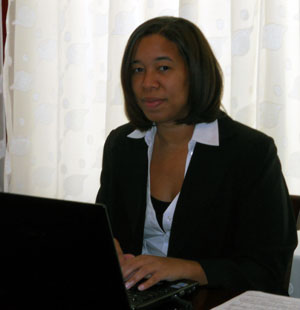 Congratulations to DrPH student Nichole Murray for being selected (out of nearly 100 applicants) into the inaugural class of the 2012 USF Graduate School Doctoral Student Leadership Institute. The two-year Institute provides an opportunity for students to gain perspectives on effective leadership theories and practices from top university, industry, and community leaders. Participants are required to take leadership courses, participate in leadership workshops and conferences, develop leadership plans and portfolios, and serve as a mentee to a leadership mentor.

Ms. Murray is in her second year pursuing a doctoral degree in the Department of Community & Family Health, focusing in Behavioral Health. This doctoral program is jointly offered through the USF Colleges of Public Health and Behavioral & Community Sciences. The program, which offers five graduate degree options, examines alcohol, drug abuse, and mental health from a public health perspective.

"As Ms. Murray's co-advisor, I have found her to be a bright, well organized, and highly motivated student," said Associate Professor Dr. Bruce L. Levin. "She has extensive work experience in policy and services delivery in the Florida Department of Children and Families, having worked more than 10 years in various positions. She has indicated a strong desire for additional exposure to public health policy and leadership theory."

"Being a member of the Leadership Institute will help me grow immensely, as it will build my expertise in key interest areas, particularly the integration of policy and practice," said Murray. "Specifically, I want my research focus in the Institute to address the integration of behavioral health and primary health care for children in rural settings. I hope to directly put leadership theories into practice by exploring, developing, and implementing new ways for children in rural areas to receive behavioral health and primary health care services."

Two additional students from the College of Behavioral & Community Sciences were also selected: Kyna Rhae Betancourt and Gerald Banfield. A stipend of $2500 will be provided to each Fellow for the fall and spring semesters and $1000 in the summer. These funds may be used for expenses related to Institute activities, such as costs associated with attending the Rutgers University Leadership Forum in Washington DC.