Intensive Youth Suicide Prevention Workshop Successfully Piloted in Tampa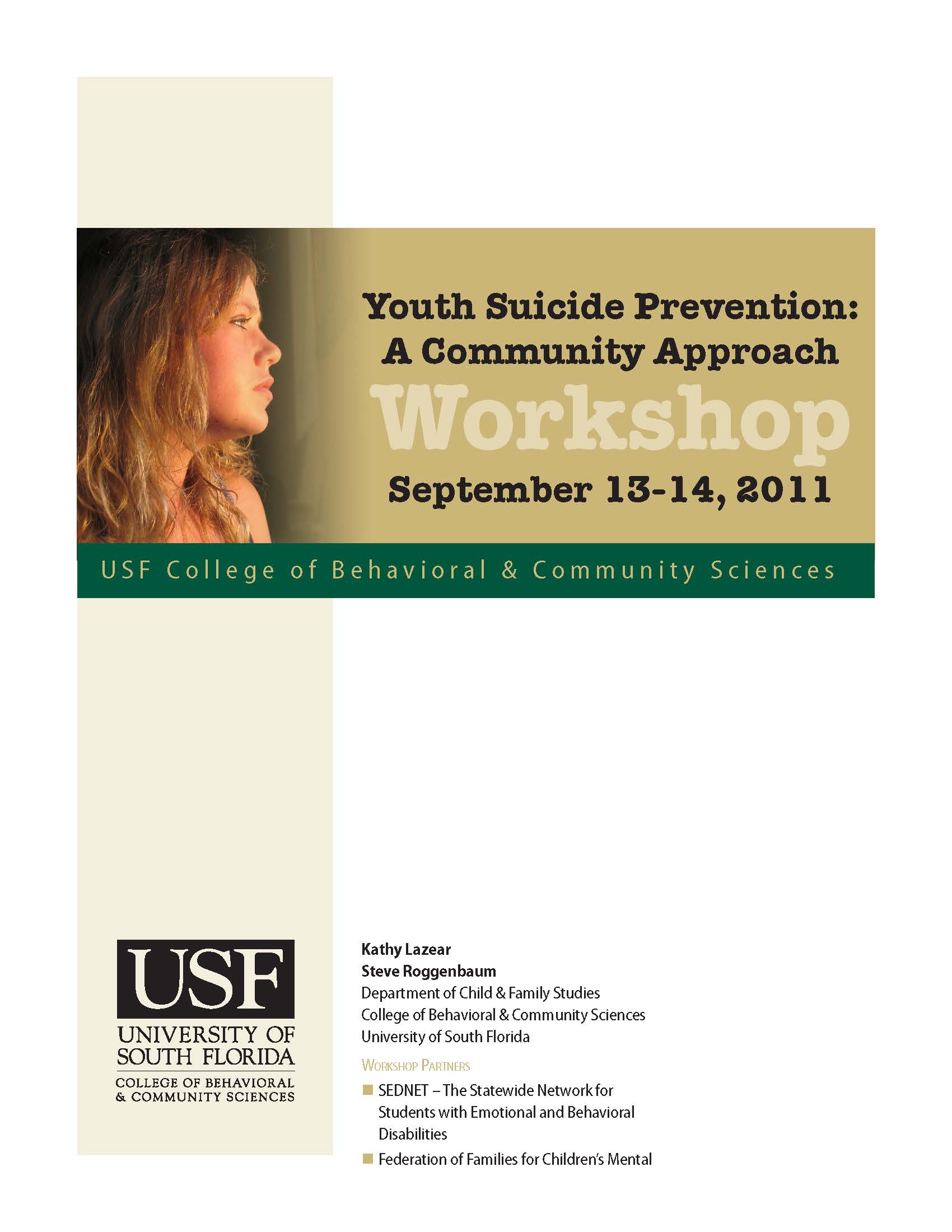 When a young person chooses to take his or her own life, family, friends, schools and communities are left wondering what could have been done to prevent such a desperate and all too final act. Although suicide is a relatively rare event in the youth population, statistics show that for every youth death by suicide, it is estimated that 100 to 200 attempts are made. 2009 data from the Centers for Disease Control and Prevention reveals that one in seven teenagers in the United States seriously considered suicide over a 12-month period. That's roughly 4 students in every high school classroom.
A new training curriculum developed and piloted by researchers at the University of South Florida can help communities and schools gain knowledge and skill in planning a community approach to youth suicide prevention. Kathy Lazear and Steve Roggenbaum, authors of the Youth Suicide Prevention School-Based Guide, developed the 2-day intensive workshop, which was piloted September 13-14 in Tampa, FL. Both Lazear and Roggenbaum have consulted with and provided technical assistance to numerous states and local communities on suicide prevention, as well as having presented at and facilitated many conferences, meetings and trainings.
Participants at the workshop included representatives from county mental health organizations, family organizations, hospitals and churches, counselors and suicide prevention specialists from schools, advocates and family members who lost a loved one to suicide. One school counselor who attended shared that 23 students from her middle school last year had revealed suicide ideation. This year, she wants to be better prepared when intervention is necessary.
"Individuals with accurate information can be better prepared to identify youth at risk for suicide, demonstrate caring behavior, and refer or link youth to appropriate resources," said Kathy Lazear. "Community venues where youth spend significant time are all potential avenues for intervention strategies. School-based prevention programs can be very effective since schools provide an environment with a high likelihood of exposure to a suicide prevention program for adolescents."
During the workshop, a number of resources and tools are shared that aim to enhance participants' understanding and maximize their community's assets to better deal with suicidal behaviors in children and youth. The workshop suggests frameworks to use for a community suicide prevention effort, all based on the public health approach and System of Care values and principles. Participants explore the issues involved with planning, implementing and evaluating programs. In addition, they are introduced to specific issues such as cultural and linguistic competence, meaningful partnerships with families and youth, and community and state partnerships.
"With minority youth more likely to express feelings of alienation, cultural and societal conflicts, academic anxieties, and feelings of victimization, it has become clear that careful attention must be paid to the needs of minority youth and their families within the context of their culture," said Steve Roggenbaum.
"All of the resources shared are going to be very helpful," said one participant. " I liked hearing others' ideas and how they are doing things in their community." According to workshop evaluations, participants liked the blend of hands-on work, handouts and resources, as well as opportunities for individual sharing.
"After completing the training, we hope participants will be an informed resource for others and assist with dissemination of accurate information regarding youth suicide, dispelling myths when presented and confronting misinformation with accurate facts," added Roggenbaum. A follow-up call with the participants is planned in late November to discuss the status of their communities' suicide prevention efforts.
Lazear and Roggenbaum are planning several workshops in the future and hope to expand the training for individual schools and communities. For cost and additional information, contact Steve Roggenbaum at 813-974-6149 or roggenba@usf.edu.