Faculty and Students to Shine at FABA 2011 Conference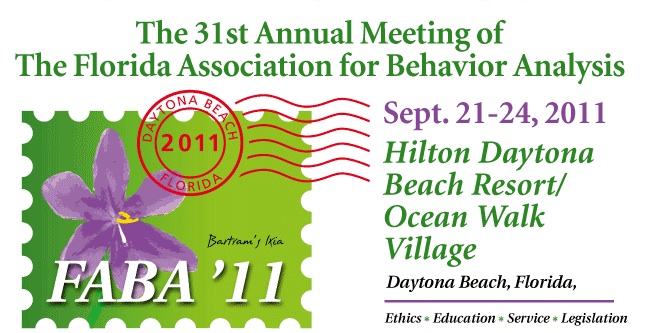 An unprecedented number of faculty and students from the USF Master's Program in Applied Behavior Analysis will present their research September 21 - 24 at the 2011 Florida Association for Behavior Analysis Conference.

The FABA 2011 USF Faculty & Student research includes:
27 papers from USF faculty and students
14 of the 27 papers are based on student theses
10 ABA/CFS faculty are authors on papers
22 ABA students (8 current students, 14 graduates) are authors on papers
ABA core faculty are chairing 8 symposia (Miltenberger -3, Crosland -2, and Weil -3)
ABA core faculty are authors on 20 papers (Miltenberger - 8, Crosland - 6, and Weil - 6)
"This is a phenomenal effort by the faculty and students," said CFS Department Chair Mario Hernandez, PhD. "This truly exemplifies the scientist-practitioner model." According to this model, a behavior analyst is a scientist and a competent researcher, and also a practitioner who applies knowledge and techniques to help people change their behavior.

FABA, in its 31st year of existence, is recognized as the premier state-wide organization for the promotion and support of Behavior Analysis. The purpose of the Florida Association for Behavior Analysis is to promote the use of effective and humane behavior analytic procedures in education, business, industry, government, and training in rehabilitation facilities throughout the State of Florida.

Congratulations to the ABA faculty and students!