Young Adults with Autism Spectrum Disorder Graduate from The Learning Academy at USF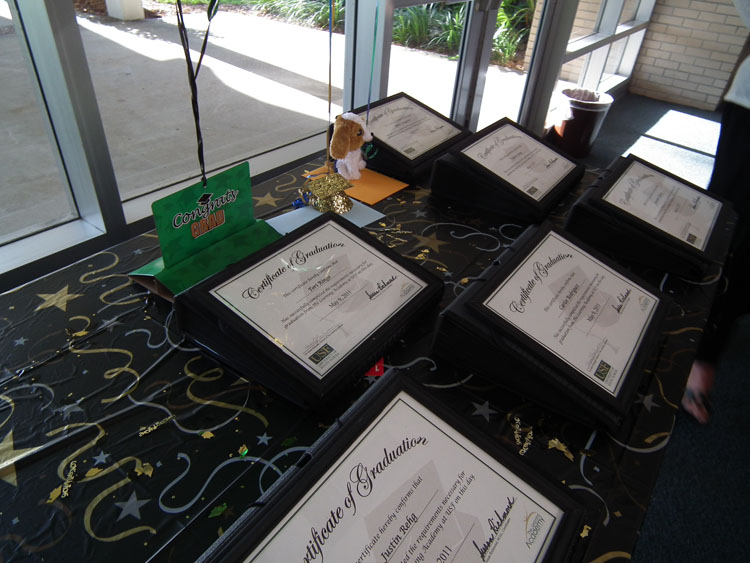 "Although this may be the end of one journey, it is the beginning of another. Take what you have learned about yourself, know that you can communicate this, and have the courage and confidence to keep growing. Also, remember these lessons that we have discussed many times throughout the year: life is a learning process and it takes courage to be successful. Learn what you can from every experience, and have the courage to take calculated risks. Dream. Have continued confidence in yourself. Go for it!"
Dr. Karen Berkman • Susan Richmond • Megan Fitzpatrick • Brenda Clark
Graduation is a time of celebrating accomplishments. That was certainly the case for students on May 10, who graduated from The Learning Academy at the University of South Florida, a customized transition program for young adults diagnosed with Autism Spectrum Disorder. For some students, the graduation will serve as a stepping-stone to continued education and training. For others, skills gained during the two-semester program will be used to seek employment.
For the parents, it was an opportunity to celebrate just how far their children have come, and to see the potential emerging for their successful transition to adult roles.
Designed to help students achieve a life of opportunity, independence and success, the thirty-week program consists of modules aimed at helping students better understand themselves while gaining skills needed for both college life and adulthood, such as organization, time management, goal setting, conflict resolution and community contribution.
Students were exposed to real-life experiences including internships and peer mentoring, which provided increased opportunities for self-discovery and career exploration. Internship sites were matched after the first semester, once the Learning Academy staff gained an understanding of each student's interest.
"During winter break, we were rushing around to find local businesses willing to partner with us," said Coordinator Susan Richmond. "We appreciate the positive response and now have a good start to a database of potential partners for the future."
The graduation ceremony included what some might consider a final exam - students were required to give a brief speech about their desires for the future and how their individual internships played a role. Many parents were amazed to actually see their child stand up in front of an audience and speak.
"Thank you all for rounding out a great school year with a wonderful celebration of our kids' achievements," said mother Charmagne Ringo to The Learning Academy staff. "All of you, and Tori, forced me to step back and allow her to mature into the lovely, young, capable woman that she has become. You are all very special to take on the fight of these incredible young adults as they make their way in this world."
New this year was a parent support group, which Richmond said helped greatly to reinforce the student's independence at home – so much so that three of the students actually got driving permits! In addition, one student tested her independence by staying in an extended stay facility for a few weeks. Several other students lived in off-campus housing. They were matched with traditional USF students and did very well.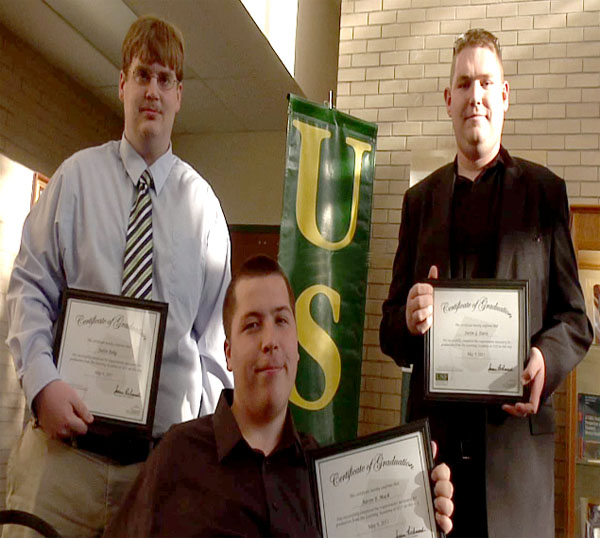 Several 2011 Learning Academy Grads pose proudly with their certificates. From L to R: Justin Rehg, Aaron Mack, and Justin Davis.
Photo from Dalia Colón, WUSF Public Media
A congratulatory letter to the students from the Learning Academy staff read, "You have much to be proud of – excelling in your internships, completing class assignments, making new friends, and perhaps most importantly, discovering yourselves. In the beginning, many of you did not know or could not put into words your own strengths and experiences. You have shown us that not only do you know yourself a little bit better now, but you can also tell others what makes you so great. That ability will truly help you in life, not only in getting a job, but in building new relationships, making plans and goals for yourself, and having the self-confidence to succeed in life."
Richmond added that each of the students brought so much personality to the Academy, she is already looking forward to next year's group.
Currently, eight students have been accepted for Fall 2011. Most have Vocational Rehabilitation funding since CARD became a vendor statewide last May.