CFS Crosses State and International Boundaries to Serve Children and Youth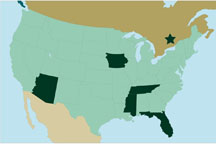 A successful partnership was formed across state and international boundaries when CFS faculty were asked to provide consultation and training, first in Ottawa, Canada and later in Arizona, to help assess changes needed for their systems that serve children and youth with complex mental health issues.
CFS faculty, along with John Mayo, Deputy Executive Director of Success4Kids & Families, Inc. in Tampa, provided training in Ottawa on the System of Care Practice Review (SOCPR), an assessment
tool developed by CFS Department Chair, Dr. Mario Hernandez. Mayo describes that "the partnership with CFS blends academia and research with direct service and parents who have gone through the system." Mayo has experience both as a trainer of the SOCPR, as well as a provider utilizing the information gained from it. During the past few years, Mayo has teamed with CFS faculty including Sharon Hodges, Keren Vergon, Mary Armstrong, Norín Dollard, Steve Roggenbaum, and others on various SOCPR trainings for communities in Iowa, Tennessee, and Mississippi, as well as Canada.
The SOCPR Protocol
The SOCPR is a practice-based, quality improvement protocol that examines a program, agency, or system's adherence to system of care values and principles at the level of practice. The three core system of care values include practice that is child-centered, community based, and culturally competent. The guiding principles describe how these values are practiced: that services that are integrated, coordinated and individualized through case management; that children have access to a comprehensive array of services in a system that promotes early identification and intervention; that services are received in the least restrictive environment; that families are included in full service planning and delivery; and that the rights of children are protected while ensuring a smooth transition to adult services when they reach maturity. The SOCPR, through the collection of in-depth information from chart reviews and interviews with youth, families, formal providers and informal supports, provides a measure of how well a community's overall service delivery system is meeting the needs of children, youth, and their families.
Success in Canada
Ottawa's Children's Coordinated Access & Referral to Services program used the tool to gain insight into their system strengths and challenges, as well as to deliver training needed for direct service staff across the mental health system. The SOCPR results have created various advancements within the Ottawa children's mental health system, including the development of a training fund for staff and the adoption of a common treatment approach based on system of care values and principles.
Natasha Tatartcheff-Quesnel, Manager of the Ottawa Children's Coordinated Access & Referral to Services, said that the SOCPR provided their community with the ability to develop a community action plan based on the results. She adds that "the process has brought our community closer together in many ways. It has given us direction in our transformation process and a means for evaluating those changes at the level of practice over time." Natasha goes on to say that "the experience of using this tool has been wonderful and the benefits have far outweighed any of the challenges. We are committed to using the tool for at least the next five years in order to also track progress over time."
Ottawa's successful use of the SOCPR has provided the foundation for use in other communities. Dr. Hernandez commented that "we were so impressed with how Ottawa implemented the SOCPR. Their experiences and knowledge gained became an excellent sharing opportunity when Arizona requested our services."
Taking the SOCPR to Arizona
Arizona has become the first state to implement the SOCPR statewide. In Arizona, Dr. Hernandez first provided consultation with the Department of Health/Division of Behavioral Health Services (ADHS/DBHS) to develop a statewide Theory of Change that expresses the state's strategies for implementing behavioral health services for children and their families. The Theory of Change is depicted in a Logic Model, a diagram that captures the global aspects of Arizona's children's system of care. This visual logic model links to detailed information regarding Arizona's system of care approach.
"We consulted with multiple national and local experts in practice review and survey development, and ultimately it was determined that the SOCPR – as far as measuring fidelity to system of care values and principles – would be able to nicely address Arizona's needs," said Sara Salek, MD, Medical Director for Children Services at ADHS/DBHS. Dr. Salek commented that Keren Vergon (USF) and John Mayo (S4KF) were instrumental in helping them. "They provided technical assistance all along the way to insure we are implementing this tool in the fashion that it's meant to be." Kimberly Engle, Bureau Chief, Children's System of Care at ADHS/DBHS, added, "It was really a huge learning experience for us to be able to pull the pieces and components of our children's system together and to make sure everything coordinated well."
Arizona's training in the SOCPR required participation by a large team. In order to meet the need, USF and Success4Kids & Families partnered with Ottawa. The partnership was beneficial for all involved. "Conducting the SOCPR outside your own community forces complete objectivity and reinforces the tenets of evaluating only what you see," said Ottawa's Natasha Tatartcheff-Quesnel. "The international partnership forged between our communities has allowed us to learn in a completely different way, to share our experiences, and to truly improve our system. While we began the partnership as a student/teacher relationship, we have moved to one of colleagues who are able to learn from one another."
Dr. Hernandez believes that this effective partnership sets the stage for further dissemination of the SOCPR. "The international collaboration reinforced just how well the SOCPR can be utilized across multiple settings."
A narration of Arizona's logic model can be viewed at http://logicmodel.fmhi.usf.edu/narrations/presentations/Arizona/
The FY2010 System Of Care Practice Review (SOCPR) summary report, co-authored by ADHS/DBHS in conjunction with the University of South Florida is now available. on the ADHS/DBHS Agency Website at the link below. Download or visit the Arizona Division of Behavioral Health Services Annual Reports webpage.