APA Fellows Attend Children's Mental Health Research & Policy Conference
APA Fellows Conference Comments
"I was impressed by the conference's multi-disciplinary approach. I particularly appreciated the emphasis on including the viewpoints of caregivers and youth in the presentations."
Kiara Alvarez
---
"My favorite session was one involving the effective communication of information regarding child mental health to the public. This idea really highlighted for me that the value and helpfulness of empirical advances is limited if we can not effectively communicate those findings to the people whose lives it may improve."
Emma Sterrett
---
"The sessions I attended raised the essential question of how to integrate mental health and educational interventions in order to see measurable improvement in students' achievement and mental health outcomes. I was excited to be a part of this conversation and to hear about the innovative interventions that others have tried. The resource CD on LGBTQI2S mental health issues has been incredibly useful for me in my work with individual clients and in schools. I have already shared a great deal of these resources with my colleagues."
Alea Holman
---
"I have been to a number of conferences and never have I seen a group of people that cared so much about what they do. This fact alone sets this conference above the rest."
Cheon Graham
There are various projections on the year that minority children will surpass the number of white children and become the majority, but all agree it is in the not-too-distant future.
As the numbers of minority children continue to climb, so too does the number of minority families asking to be served by individuals understanding of their own cultures. The low percentage of health service providers who are ethnic minorities of are great concern, especially in regards to ethnic families in need of mental and/or substance abuse support.
To identify, select and support doctoral level ethnic minority students and postdoctoral trainees who demonstrate promise and a commitment to careers that address the mental health service and research needs of ethnic/racial minorities, the American Psychological Association (APA) offers a Minority Fellowship Program (MFP). Funded by the Substance Abuse and Mental Health Services Administration (SAMHSA), the MFP is considered to be one of the most successful training programs for ethnic and racial minority researchers and service providers in the history of federally funded training programs.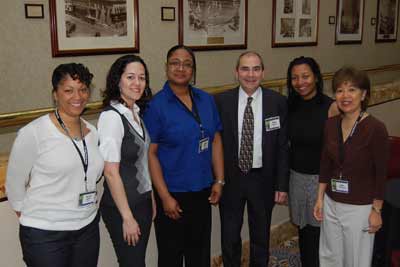 During March 7 - 10, 2010, four MHP fellows were invited by the USF Department of Child & Family Studies (CFS) to attend the premier national Children's Mental Health Research & Policy Conference in Tampa, Florida. Since 1987, the conference has provided a forum for constructive dialogue about key innovations in the field of children's mental health. More conference news.
"For many years, the conference has provided numerous sessions on the provision of culturally competent services for children and their families," said CFS Department Chair Dr. Mario Hernandez, who on behalf of CFS provided the fellows conference scholarships. "Not only did the interns attend sessions on the latest findings and best practices in children's mental health, they also had the opportunity to meet a number of experts in the field, including previous APA Fellow Dr. Larke Huang, SAMHSA's Senior Advisor on Children in the Office of the Administrator."
The APA Fellows are:
Kiara Alvarez: a doctoral student in the School Psychology program at the University of Texas at Austin. She has worked as a Graduate Research Assistant at the Health Behavior Research and Training Institute at the Center for Social Work Research at UT Austin since 2009. Her research interests include interventions for high-risk behaviors among adolescent girls, brief motivational interventions for substance abuse, and mental health service delivery to Latino families.

Emma Sterrett: a fifth-year student in the clinical psychology doctoral program at the University of North Carolina-Chapel Hill. Her research interests include systemic processes among underserved families, particularly associations between non-parental social support and adolescent well-being, and mixed methods research. Her clinical interests are in couples and family therapy. She will be completing her internship next year at the University of Illinois-Chicago.

Cheon Graham: a fourth year school psychology doctoral student at Duquesne University in Pittsburgh, Pennsylvania. Cheon's dissertation topic focuses on the relationship between moral development and school connectedness. Her research interests are in juvenile delinquency, children of incarcerated parents, and childhood trauma.

Alea Holman: a fourth year doctoral student in the School Psychology Program in the Graduate School of Education at UC Berkeley. She is also participating in a clinical internship at Youth and Family Services in Vallejo, CA. Her research interests include racial and gender socialization within Black families. She is exploring the belief systems and processes that influence what and how parents give messages to their children about race and gender. For her dissertation project, she plans to research how parents' and children's efficacy beliefs relate to parental gendered racial socialization messages.
(In photo above, from left to right are Alea Holman, Kiara Alvarez, Ed.M., Cheon Graham, MS Ed, Dr. Mario Hernandez, Emma Sterrett and Dr. Larke Huang.)
The Department of Child and Family Studies (CFS) at the USF College of Behavioral & Community Sciences is committed to improving the well-being of individuals, children, and families within communities across the country through promoting respect, inclusion, development, achievement, mental health, and an optimum quality of life.