Ruby Joseph Shares Findings on International Partnership Bringing Success to Parents and Preschoolers at NAEYC Conference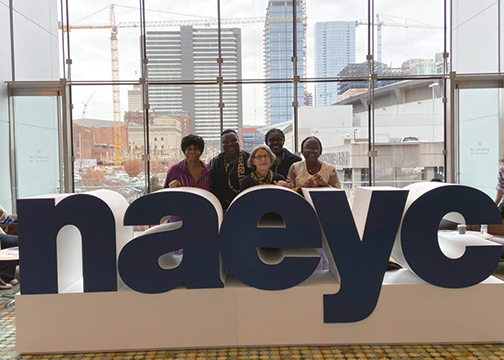 On Friday November 22, 2019 Ruby Joseph co-presented a paper entitled Family Literacy Initiative: An International Partnership Brings Success to Parents and Preschoolers at the National Association for the Education of Young Children (NAEYC) Conference in Nashville Tennessee.
The Family Literacy Initiative (FOL), which seeks to positively affect Liberia and Liberians through education, social, economic and humanitarian programs and through advocacy efforts, addresses a crisis that underlies all of Liberia's challenges — one of the lowest literacy rates in Africa. It recognizes that parents are a child's first teacher and partners FOL with the international evidence-based program Home Instruction for Parents of Pre-school Youngsters (HIPPY) to bring the program to three communities in Liberia.
Joseph co-presented at NAEYC with Mary Gemignani, Ed.D, Chair of the Friends of Liberia (FOL) Education Committee.
"This is part of my collaboration work with Friends of Liberia, a non-profit group of returned Peace Corps Volunteers and others committed to Liberia," said Ruby Joseph.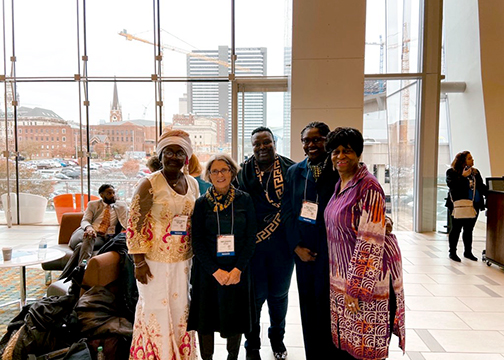 During the 90-minute presentation two prominent Liberian Educators were in the audience: Felicia Sackey Doe-Sumah, Assistant Minister of the Basic and Secondary Education and Coordinator of the Teaching by Radio and Girls Education and Liberian Ministry of Education, and; Florence Baby Koroma, Dean of the School of Education at Stellar Maris Polytechnic University, and Coordinator of the Early Childhood and Higher Education Consortium. Also in attendance was one of the collaborators on the Family Literacy Initiative, Sia Barbara Kamara, Consultant, Mentor and Coach, Open Society Foundations, /OSIWA, Liberia.
"NAEYC is the largest early childhood conference in the country. It was a very enlightening experience," added Joseph.
(In photos, Ruby Joseph is with co-presenter Mary Gemignani and Liberian educators.)