CFS Chair Dr. Mario Hernandez Receives the "2016 Hispanic Success Story Award" from the Tampa Hispanic Services Council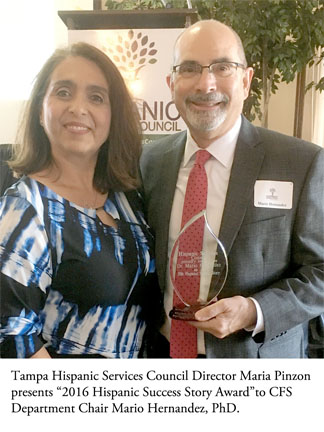 Congratulations to CFS Department Chair Dr. Mario Hernandez who received the "2016 Hispanic Success Story Award" from the Tampa Hispanic Services Council (HSC) on September 28. The award was presented by Maria Pinzon, HSC Executive Director.
During the annual breakfast event, HSC celebrates and recognizes Hispanics within the Tampa Bay community who have achieved success in their fields. They are nominated by the HSC Board of Directors.
"This year, we elected health as the primary theme for the event," said Maia Pinzon. "Dr. Hernandez was chosen for his accomplishments in the mental health field and his advocacy and commitment to positive health outcomes for children and families. We strongly believe that by highlighting Mario's success story, he will serve as a role model to the children and families that we serve, as an example of what can be achieved through education and dedication."
HSC is focused on improving the lives of Latino children and their families in Hillsborough County through initiatives that seek to promote high academic achievement among young and old, increase the health and well-being of children and families, strengthen financial sustainability, and support civic engagement among residents and communities. According to the HSC, Hispanics are Hillsborough County's largest minority group and represent more than 300,000 of the county's 1.2 million residents. Despite this large community presence, great disparities still exist between Latino and non-Latino groups. Only 10% of Latino adults have a college degree and just 29% a high school diploma. Recent reports also indicate that less than 60% of Hispanic third graders are reading at grade level.
Dr. Hernandez was born and raised in the Hispanic community of Ybor City and has spent much of his life working to improve accessibility of mental health services for diverse children and families throughout Florida and the nation, and identifying and measuring organizational factors associated with reducing mental health disparities.
"From my early childhood on, I received unconditional support from my family. They made me feel that I could accomplish anything."
As a young child, he would watch a variety of programs on WEDU. "Through WEDU, I learned about music, dance and travel, and the possibility of jobs I never knew existed. I was able to envision a much bigger world beyond my small community. Having USF right in my own hometown also helped create the gateway to my future, and it was there that I found my passion for improving the behavioral health of children."