The Florida Center for Inclusive Communities Helps Host Ms. Wheelchair Florida Conference and Gala at USF
The Florida Center for Inclusive Communities (FCIC) at the University of South Florida in Tampa helped host this year's Ms. Wheelchair Florida (MWFL), Inc. Conference and Gala 2016. The event, held March 4 - 6, was a collaborative partnership with USF Student Government, Student Affairs, Students with Disabilities Services, and FCIC.
For the past 25 years, MWFL Inc. has provided a platform for women to empower and show that despite life's many challenges and having a disability, women are still able to be successful, productive members of society and have the opportunity to live, work and play as anyone else. MWFL serves as a platform for women in all 67 counties in Florida to advocate for the 54 million Americans who are living with disabilities.
FCIC Employment Services Coordinator Brenda Clark helped with the logistics planning for the weekend of competition. She also hosted the State Coordinators Friday night event at the Embassy Suites Hotel and served as a judge throughout the day on Saturday and during the evening Gala.

FCIC Associate Director Dr. Liz Perkins conducted the workshop, A conversation with Dr. Liz Perkins, in which contestants discussed advocacy and self-empowerment. She shared her own personal story as a professional with a disability working in the disability field. A registered nurse from the United Kingdom, Dr. Perkins trained specifically in the field of intellectual and developmental disabilities (IDD), and her current work is concentrated on improving both access to and quality of healthcare for persons with disabilities.
Dr. Perkins commented, "It was incredibly uplifting to hear of the contestants' advocacy triumphs. I was so impressed by their accomplishments. They were amazing, and it was a privilege to meet them all."
Congratulations to Ms. Florida Wheelchair 2016: Ms. Heather Taylor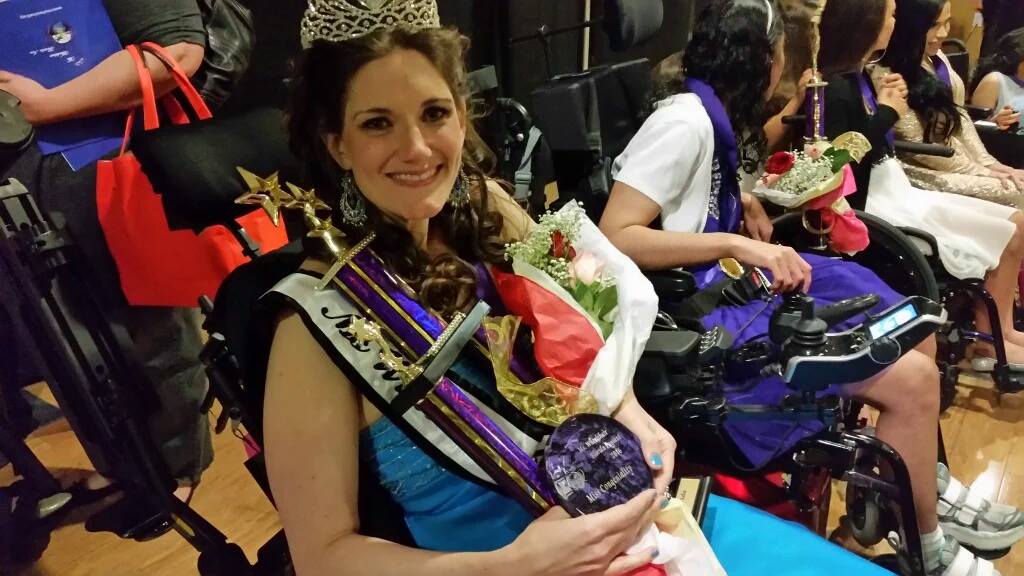 Heather Taylor was born in Tampa, Florida to parents Rosa Lee Reinhart and William Paul Henderson. At the age of six, she lost both parents to a homicide-suicide perpetrated by her father. Though her father's intent was for her to not live through that day, she was able to more than survive, she was able to thrive. She excelled in scholastic endeavors and is now working on her 2nd Masters degree at Embry-Riddle Aeronautical University. With a bachelor's degree from the University of Florida in Psychology and a Master of Arts degree from Liberty University in Professional Counseling, Heather has been able to serve residents of Florida as a professionally certified exceptional student educator, an employee of the Florida Center for Medicaid and the Uninsured, an in-home Family Preservation Counselor for families referred by the Department of Children and Families, and an advocate for change in the behavioral health industry. When Heather learned she and her husband, Randall Taylor, were expecting their daughter, Grace, she knew something was abnormal during the pregnancy. After many hospital visits and stays, heart procedures and tests, it was determined she had Dysautonomia and Postural Orthostatic Tachycardia Syndrome (POTS) for which there currently is no cure. For months she and her newborn would crawl on the floor together as her body was unable to handle the stress of standing and doctors did not know what to do to help. Now she has mobility through a power recline wheelchair and is traveling throughout the state of Florida spreading awareness about Dystautonomia, Domestic Violence, Suicide Prevention, Child Abuse Prevention, Mental Illness and she is a firm advocate for those with disabilities. Her mission is to advocate, educate and empower all persons suffering with both visible and invisible illnesses as well as to break through attitudinal and architectural barriers for persons with disabilities.
Photos: Top; Dr. Liz Perkins and contestants show their Bull pride during empowerment workshop. Above; Ms. Wheelchair Florida 2016 Winner, Heather Taylor. For additional photos of event and contestants, visit the FCIC Facebook page.
Contestants
Gianna Gonzalez
Jessica Velazquez
Katherine Magnoli
Sara Canali
Heather Taylor
Victoria Hernandez
Rebecca Hoskins
Hannah Chu
Angie Miller

Weekend Activities
Workshops included:
Fair Housing: Knowing the rules and regulations of accessible housing
Self-Advocacy
Strategies to effective public speaking
The integration of art and those with disabilities-VSA Florida
Self-Defense-Life Skills Martial Arts Center
Disability and Empowerment
Dating and Relationships
Networking/Marketing yourself
Gala
Hosted by Shayla Reaves from Fox 13 News
Welcome remarks from Commissioner Al Higginbotham, Commissioner Pat Gerard from Pinellas County, and Mayor representative Tom Snelling
Miss America 2004 - Ericka Dunlap, encouraging words
Debbie Lundberg, motivational speaker, certified life coach-keynote
Color Guard-USF Air Force
City of Tampa Fire Rescue-escorts
Sign of Da Times-sign language interpretation of national anthem